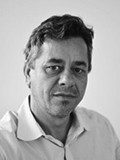 Guest Speaker at RIFF conference, MBA/S Matthias Bauer Associates
Owner
MBA/S Matthias Bauer Associates
, Germany
PROJECT: "House 36. Milestone in insulating concrete"
PROJECT AWARDS: 2014 WAN Concrete in Architecture Award; Iconic Award Architecture Best of Best 2014; Nomination Mies van der Rohe Award 2015
Arch. Matthias Bauer graduated at the University of Stuttgart and worked as a freelancer at several architectural offices in Stuttgart and Paris. From 1995–1998, he was project partner at Rem Koolhaas' Office for Metropolitan Architecture, Rotterdam. In 1999, he founded MBA/S Associates Stuttgart, the office for architecture, urbanism and landscape. MBA/S is consulting, designing and realizing projects as catalysts for all aspects of public and private life. Research and development is undertaken in the fields of organization, infrastructure, corporate identity and marketing strategies as well as new media, building materials and environmentally sound building. MBA/S works in specific project teams of varying size and in collaboration with special engineers and consultants. Matthias Bauer was assistant professor at the University of Stuttgart and is currently visiting critic and lecturer at various architecture schools and international workshops.
The project that won the 2014 WAN Concrete in Architecture Award, presented at RIFF Warsaw
House H36 in Stuttgart is shaped and engineered entirely of insulating concrete and it is the first of its kind in Germany. Not only the perimeter walls, but also the faceted roof is making innovative use of this material allowing for seamless construction and the elimination of additive thermal barriers. The German architect Matthias Bauer, principal of MBA/S Associates, researched and designed the possibilities of this material in depth leading to this truly modern prototype house.
The monolithic building almost resembles a mountain crystal. From the distance the characteristic shape blends into the residential context harmoniously with its triangulated sloped roof. The vivid presence of the peculiar geometric form becomes evident the closer one gets to the house and is complemented by the relationship between interior and exterior space.
For such a design approach, the roof and walls want to be as malleable as clay and cast from the same material. Poured in place joint-less insulating concrete was ultimately chosen for its superior material qualities.
Thus MBA/S was able to not only eliminate the need for additional thermal insulation but also to avoid typical environmental and building physics issues. The optimized formula and application of insulating concrete is without precedent in Germany. H36 is a pure monolith with walls, floor and roof cast of the same material that stands out like a boulder on the hillside.
House 36 (re-)unites architecture, structure, insulation and technical installations in a single layer concrete stone.
PHOTO GALLERY