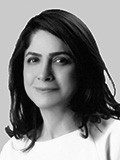 Guest Speaker in RIFF Conference, Şişecam Flat Glass
Product Director
Şişecam Flat Glass
PRESENTATION: "Expectatiıons of Architecture from Glass"
Esra Aydınoğlu graduated from TED Ankara College in 1990. She received her Bachelor of Architecture Degree from Middle East Technical University, Faculty of Architecture in 1994.
After graduation, she worked for Erkut Sahinbas Architectural Office, ZD Contruction, Archipel Architectural Office. Her experience includes several projects for education, housing, tourism, and commercial design.
Since 2006 she has been working for Sisecam Flat Glass company. She is the product director for coated glass.
Title of the presentation: "Expectatiıons of Architecture from Glass"