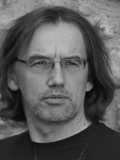 Guest speaker at RIFF conference, OVO Grabczewscy Architekci
Owner
OVO Grabczewscy Architekci
PROJECT: "Museum of Fire"
AWARDS: Finalist Life in Architecture Award 2015 given by the President of the Republic of Poland; Finalist Life in Architecture Awards 2012 given by the President of the Republic of Poland; SARP Prize of the Year 2006 for the Best Building in Poland
Arch. Oskar Grąbczewski studied architecture in Technical University of Silesia in Gliwice 1988-1994. From 1994 till 2002 he worked in AIR Jurkowscy Architekci in Katowice, as an architect responsible for numerous prize – awarded buildings.
In 2002, he started, together with Barbara Grąbczewska, their own practice – OVO Grąbczewscy Architekci in Katowice. OVO Grąbczewscy Architekci won multiple national and international awards for excellence in architecture, including SARP (Association of Polish Architects) Prize of The Year 2006 for the best building in Poland, Polish Concrete of The Year 2006 Award for the best concrete building in Poland, EUROPE 40 UNDER 40 2009 Award for Europe 's Emerging Young Architects and Designers, III International Biennale for Young Architects LEONARDO 2009 Award Mention, Polish Committee of Sport Infrastructure Building of The Year Award 2011, Nomination for Life in Architecture 2002-2012 Award for The Best Buildings in Poland.
OVO work was published and exhibited in Athens, Amsterdam, Barcelona, Florence, Rome, Vienna, Prague, Budapest, and Bratislava.
One of the best public buildings in Poland, Museum of Fire in Żory, presented at RIFF Warsaw 2015
The museum consists of three independent walls that "swim" next to each other. Their composition and shapes covered with copper plates resemble dancing flames. Spaces between the walls are fully glazed forming entrances to the pavilion. Walls are made of architectural concrete, covered on the outside with copper and left untouched inside. The floor is paved with black stone, and continued to the outdoor elements.
The building has three entrances. There is a multifunctional hall and reception/information on the ground floor and an exposition hall underground. With restrooms and technical rooms, the program is complete.
PHOTO GALLERY